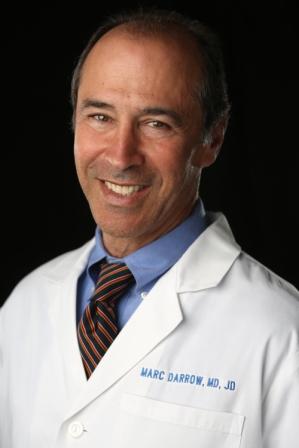 Marc Darrow, MD., JD. is the medical director and founder of the Darrow Stem Cell Institute in Los Angeles, California. 
With over 23 years experience in regenerative medicine techniques and the treatment of thousands of patients, Dr. Darrow is considered a leading pioneer in the non-surgical treatment of degenerative Musculoskeletal Disorders and sports related injuries. He is one of the busiest Regenerative Medicine doctors in the world. 
Dr. Darrow has co-authored and continues to co-author leading edge medical research including the use of bone marrow derived stem cell therapy for shoulder, hip, knee and spinal disorders. He also comments and writes on research surrounding the treatment of chronic tendon injury, ankle and foot pain, elbow, hand and finger pain.
Call us 800-300-9300 or 310-231-7000
Email Dr. Darrow:

A leading provider of stem cell therapy, platelet rich plasma and prolotherapy 11645 WILSHIRE BOULEVARD SUITE 120, LOS ANGELES, CA 90025
PHONE: (800) 300-9300 or 310-231-7000
Stem cell and PRP injections for musculoskeletal conditions are not FDA approved. We do not treat disease. We do not offer IV treatments. There are no guarantees that this treatment will help you. Prior to our treatment, seek advice from your medical physician. Neither Dr. Darrow, nor any associate, offer medical advice from this transmission. This information is offered for educational purposes only. The transmission of this information does not create a physician-patient relationship between you and Dr. Darrow or any associate. We do not guarantee the accuracy, completeness, usefulness or adequacy of any resource, information, product, or process available from this transmission. We cannot be responsible for the receipt of your email since spam filters and servers often block their receipt. If you have a medical issue, please call our office. If you have a medical emergency, please call 911.
---